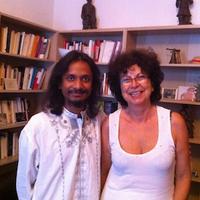 The darshan or darśana (from sanskrit दर्शन, « sight, vision ») signifie « vision of the divine » or also « being in presence of the divinity ».
Organization of indiviudal interviews completely confidential. You can during these interviews ask any kind of question or request concerning your spiritual life or your material life, and Acharya Shree Shankar will offer you his listening and presence, and will put light to bring you the solution. It is also possible for those who wish to have an initiation (Agni, Kundalini or Tantra) or also a healing.
To organize these interviews, it is necessary to have an available and suitable location for both privacy and conviviality, where anyone can confide safely.
For any request :